roaddawgz home
roaddawgz chatroom
c h a p t e r s
finding freedom
on the road
sqatting & gear
street hustles
drugs & addiction
companions
staying healthy
going home
propaghandi
manifesto
fiction
poetry & rhymes
art gallery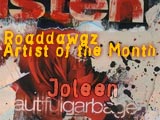 letters from the editor
about roaddawgz
links
Squatting & Gear

WHY I'M CHOOSING TO LIVE ON THE STREET AGAIN
Veronica Passerella roaddawgz.org, Feb 10, 2003
I left home at 16 to start squatting and traveling. I'm 23 now and about to leave my first apartment, that I've had for a year, to do it again.

SQUAT OR ROT!
THE MYTHOLOGY AND BRIEF HISTORY OF THE SQUATTERZ MOVEMENT
Raven roaddawgz.org, Feb 03, 2003
Whether it was the gypsies and tinkers of England and Europe or the Hobos of the U.S., travelers have always had a "secret language" of signs and signals. The roots of this language can be traced back to early Christian times, (sometimes called the Burning Times) when Pagans used symbols to communicate

SQUATS - A HOW-TO FOR LIVING UNDERCOVER
Bearrington Kennedy roaddawgz.org, Feb 03, 2003
Finding a good building to squat can be difficult, at best, and often word of mouth works best.

HELPFUL GADGETS
Bearrington Kennedy roaddawgz.org, Feb 03, 2003
There are lots of little things I carry around in my pack that have made my life on the road or on the streets much easier. Some have even saved my life. I have listed some here in the hopes that you might find them useful, also.

RD Home > squatting & gear > 4 > 5 > 6 > 7 > 8 > 9 > 10 > 11 > 12