WHY I'M CHOOSING TO LIVE ON THE STREET AGAIN
Veronica Passerella roaddawgz.org, Feb 10, 2003

I left home at 16 to start squatting and traveling. I'm 23 now and about to leave my first apartment, that I've had for a year, to do it again.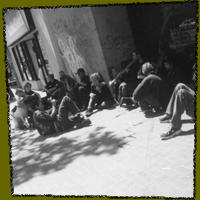 When I hit my early 20's I began feeling jaded and haggard. It may seem silly, feeling like this at such a young age, but life on the street takes it's toll. Watching my friends die, losing all my gear, feeling sore and angry over and over gets tiresome. Every year can feel like three for those reasons.
I took encouragement from road dogs who've settled down and gotten a place. I've found that it's nice to always have a warm dry place to sleep, off concrete. I also love to cook and tattoo so a nice kitchen and art space is cool to have. I have a backyard for a garden and my dogs, and my landlady is nice, although she lives upstairs which restricts what I can do late at night, and I'm definitely not used to that.
But I feel so incredibly stagnant when I'm in one place for too long, even if I'm accomplishing things. I really hate dealing with money. When I do get some I'm accustomed to being able to spend it on fun or basic necessities like resoling my boots. I really don't belong in an ass-kissing 9 to 5 wage slave work force. If I even come close to living a mainstream lifestyle I have a complete identity crisis breakdown. Too much comfort can be corroding.
Many of my friends and I have struggled with drug addiction much more so when we're in one place than on the road. The more we seem "together" on the outside, with jobs, schools, houses, the more messed up we tend to be on the inside. I was happiest living a simple carefree life hitchhiking, hopping trains, going to festivals, doing my art, and seeing the country with my friends and husband.
My only pain was my poor relationship with my family. They are so much more accepting of me when I'm in a house, but I'm quite miserable. Pleasing them isn't worth that to me anymore. I've watched my mother, who was a hippie, try and do just that for years with my grandparents. They're never quite satisfied, and she's never quite happy. Taking a break made me reassess all the joys and freedoms of life I've had when I wasn't tied down to an apartment.

Looking back on the time I've spent here I also see the good things I've done -- the Christmases and Thanksgiving dinners for friends, a bunch of awesome tattoos, helping people with a place to save a little money, de-bug, and kick dope. There are pros and cons to every situation, the grass may always look greener. All I know is the struggle can strengthen.

When I'm traveling my faith is so much stronger and I appreciate the little things so much more. I've had old people tell me that they were jealous. They lived life on the straight and narrow expecting to be able to see the country when they retired, finding that by the time that happened they were too sick and feeble. At 16 I didn't know or care if I lived 'til 30. Now I know I will, with kids and grandchildren in the picture too. So until I have to settle down I'll roam a bit longer!

Page 1 of 1


Disclaimer: roaddawgz will put up as many of your comments as possible but we cannot guarantee that all e-mails will be published. roaddawgz reserves the right to edit comments that are published.